Powerful Kotlin REST APIs with Ktor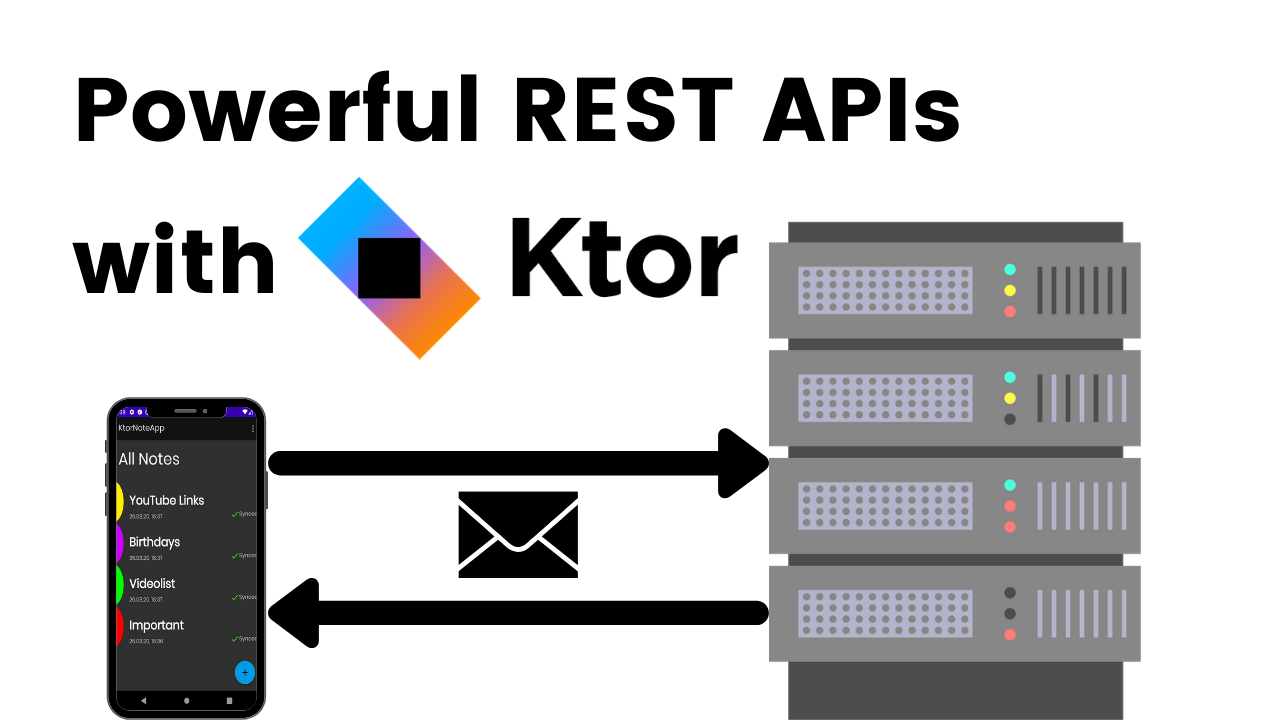 Get Started
This course is currently closed
What Is Ktor?
Ktor is a powerful Kotlin backend framework that is entirely based on coroutines. That makes it extremely performant because on the one hand it can handle many requests at once and on the other hand coroutines are more efficient than threads.
What Is MongoDB?
MongoDB is the most popular NoSQL database. Especially, with the library KMongo, its implementation is super simple with Kotlin. MongoDB synergizes extremely well with Ktor and will here be used to implement a full Register/Login system to save notes for each user.
What Will You Do in this Course?
You will implement your very own backend server with the powerful Ktor framework. After implementing the backend side, you will create a note app on Android to connect it to your server. Users will be able to register and login in your app to create notes and synchronize them on your server. All the notes will also be cached in a local database on the device for offline access. Users will be able to add owners to their notes, so that they can share their notes with other users who are then allowed to also read and edit these notes.
What Do You Have to Know Before Starting This Course?
What Will You Be Able to Do After Watching This Course?
Build your very own REST API with Ktor, so you don't need Firebase anymore
You will be able to have the full control over your backend, with Firebase you don't have that
Respond to your own chosen HTTP endpoints with JSON, HTML and CSS
Remotely save your data with MongoDB
CRUD with MongoDB
Implement an authentication mechanism, so only logged in users can make requests to your server
A complete registration and login system
Model a NoSQL database scheme
Respond to all kinds of HTTP requests
Use Retrofit on Android to communicate with your own Ktor server
Efficiently handle network errors
Implement an efficient local database cache that saves notes in a Room database for offline cache
Inject dependencies with Dagger-Hilt
Keep the user logged in
Encrypt your SharedPreferences
Showing Markdown formatted notes in Android
Synchronize local notes with your Ktor server
Securely save your user's passwords
Encrypt your HTTP traffic
Deploy your Ktor server on your own rented server to access it from everywhere
Course Duration: 9h
5 out of 5 stars (based on 14 reviews)
Really amazing course
This course is made really well and explained in a lot of detail. I would highly recommend this to anyone who wants to learn how to implement Ktor REST API in their apps. Hands down I wasn't able to find any better course on this topic. And thanks to Philip I was able to pass my Associate Android Developer Exam.
One of the Best Full Stack Courses
This course teaches in clarity. I learnt alot from this and went on to give the Associate Android Developer's Certification in Kotlin, and i passed. Really worth every penny.
BEST COURSE ON THE INTERNET
you really need this course.. let me explain why,
1. ktor is very useful for backend.. at the end of this course,
you will know not only how to create rest api end points but how to set up your mobile app to communicate with those endpoints, set it up with mongodb etc.
2. this course covers all the parts you need to know about android network programming with best practices.
3.you will also learn about dagger hilt and it's well explained and concise
thank you so much phillipp for this course, i'm proud to say that i'm an android developer.
The best
This course is awesome, it covers everything you need to know about mobile + backend for your applications
And the most interesting part, now we can build a product without using firebase.
Best one
This Course covers everything
that would require for a production app
with best practices provided and our own server which gives a great experience
Dealing with servers in the future