Social Network with Firebase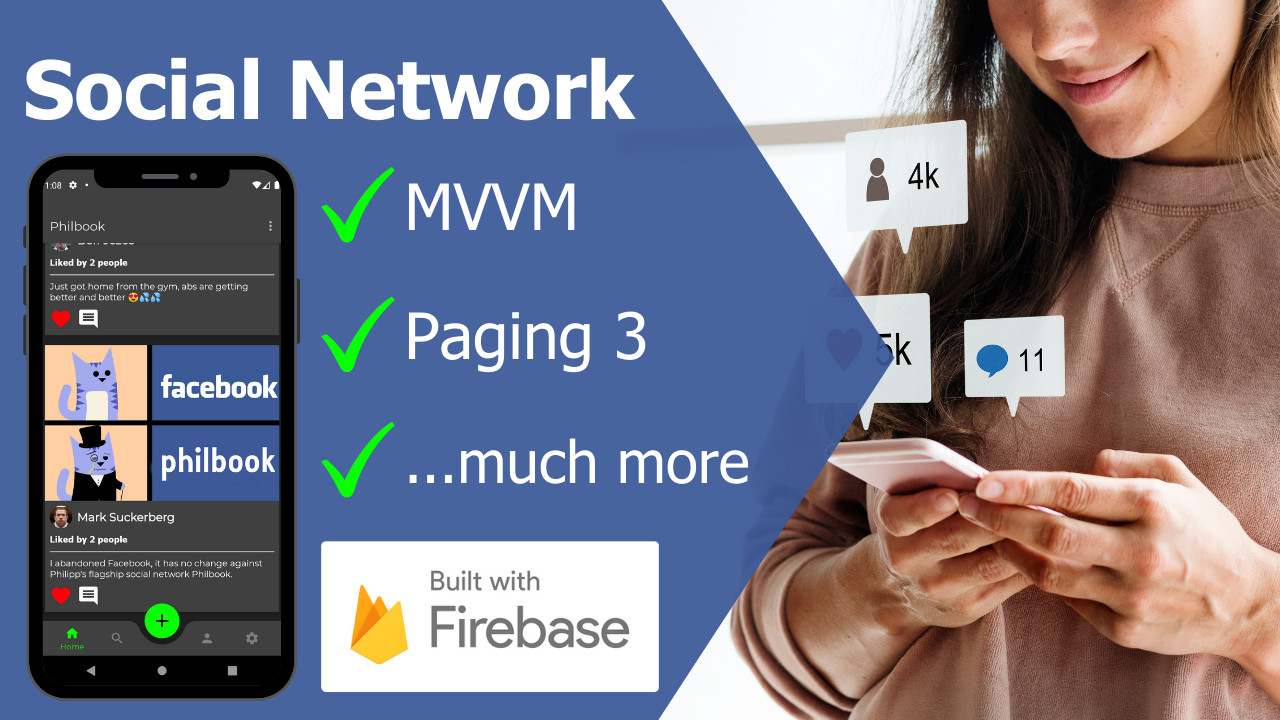 What Will You Do in this Course?
You will build a fully fledged and easily extendable social network app. You will learn to create user accounts using Firebase and to login with those. Each user will have its own profile that is customizable in this app. The username, profile description and profile picture can be updated, but you can easily add more entries. You can create posts that are similar to Instagram posts (image + description). Also, the app will have a search function to find other users who are registered. Via this search function, you can find other user's profiles and follow these users. By following a user, you will get all of its posts in your home feed. The app will have a comment system as well that allows users to comment under any post they like. They are also able to like and unlike posts.
Why Firebase?
With Firebase, you don't rely on your own backend. It just makes things super simple to handle, you don't need to deploy a server and you can see all your data and traffic in one place at your Firebase console.
What Is the Focus of This Course?
The focus is that you learn to implement Firebase and MVVM in a bigger app in a clean way. You will learn multiple techniques to minimize boilerplate code in your app and techniques to better structure your future projects.
Do I Get a Certificate After Completion?
Yes! You will be awarded a certificate once you completed all the lessons and all the quizzes in this course.
What Do You Have to Know Before Starting This Course?
What Will You Be Able to Do After Watching This Course?
Build complex apps based on the MVVM architecture using Firebase
Design an app in a clean way without boilerplate code
Design your Firestore database in an optimal way that saves you money
Use dependency injection with Dagger-Hilt in any app
Use the Paging 3 library to efficiently paginate requests
Implement a comment system
Registering and logging in users using Firebase
Working with multiple Firebase technologies together
Creating posts in a social network app
Searching for users
Updating user profiles
Deleting posts
Liking posts
...and much more
Course Duration: ~8.5h
4.6 out of 5 stars (based on 8 reviews)
i had to literally stop my self to not give you 5 star without even seeing the course
best person and the most patient person i have seen.
Good
Excellent, but now outdated.
No flows, no databinding…
Where is the source code?
Where is the source code?
Good Course (if maintained)
The Course is very good and Coding is neat , but not worth because most of the extensions/dependencies are outdated.
It would have been great if you constantly maintain the Paid Projects.
Awesome Tutor and awesome project
Well made course and every € worth, like any other of his courses.
Cool and clean coding style and a lot of content to learn in a short amount of time.
Really a huge load of new new input which can be often be re-used and helps to create a great and smooth app.
Not overloaded in well-known things, focused to learn new stuff and not repeating same old things again and again to blow up the time.
The steps of coroutines are often repeated, but in this case its useful to keep it in mind.
Thanks!