Social Network with Firebase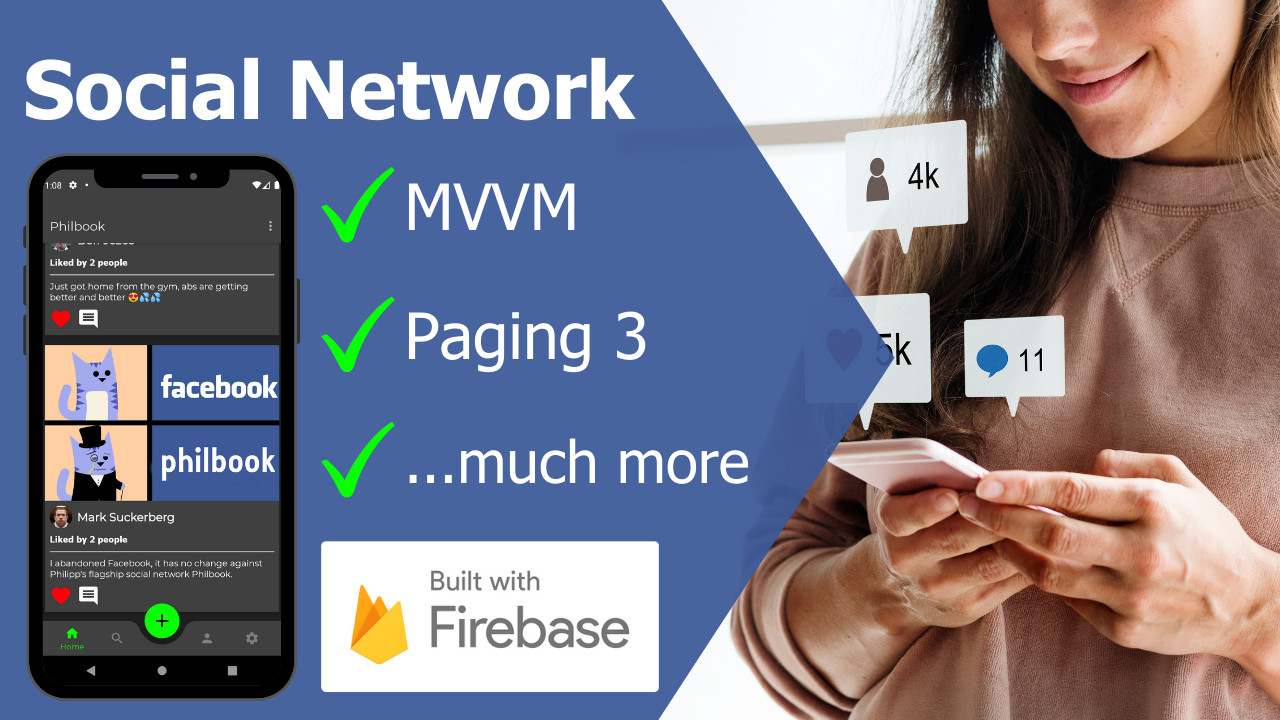 What Will You Do in this Course?
You will build a fully fledged and easily extendable social network app. You will learn to create user accounts using Firebase and to login with those. Each user will have its own profile that is customizable in this app. The username, profile description and profile picture can be updated, but you can easily add more entries. You can create posts that are similar to Instagram posts (image + description). Also, the app will have a search function to find other users who are registered. Via this search function, you can find other user's profiles and follow these users. By following a user, you will get all of its posts in your home feed. The app will have a comment system as well that allows users to comment under any post they like. They are also able to like and unlike posts.
Why Firebase?
With Firebase, you don't rely on your own backend. It just makes things super simple to handle, you don't need to deploy a server and you can see all your data and traffic in one place at your Firebase console.
What Is the Focus of This Course?
The focus is that you learn to implement Firebase and MVVM in a bigger app in a clean way. You will learn multiple techniques to minimize boilerplate code in your app and techniques to better structure your future projects.
Do I Get a Certificate After Completion?
Yes! You will be awarded a certificate once you completed all the lessons and all the quizzes in this course.
What Do You Have to Know Before Starting This Course?
What Will You Be Able to Do After Watching This Course?
Build complex apps based on the MVVM architecture using Firebase
Design an app in a clean way without boilerplate code
Design your Firestore database in an optimal way that saves you money
Use dependency injection with Dagger-Hilt in any app
Use the Paging 3 library to efficiently paginate requests
Implement a comment system
Registering and logging in users using Firebase
Working with multiple Firebase technologies together
Creating posts in a social network app
Searching for users
Updating user profiles
Deleting posts
Liking posts
...and much more
Course Duration: ~8.5h
4.1 out of 5 stars (based on 15 reviews)
Its too difficult to find a small mistake in this project.
You need to provide source code of this application, If anyone do a small mistake then its very tough to find the mistake, that's why I am giving 2 Star Rating.
Amazing content
It has guided me more than I expected, everything is clear. Keep up the good work.
Amazing Course!
It's an amazing course that contains most of the modern technologies and concepts that we need to create a fully working app in Android like MVVM, Paging3, Dagger …etc
And the best part is how you can explain such complicated concepts with such simple terms and simple examples which makes it easier to understand.
And finally, I really appreciate the good practices you use while developing and the tips & tricks you give through the course.
PS: Btw for the people who didn't find the source code, it's available on his GitHub under the name of SNPLC.
Poorly explained, no source code.
If one encounters a problem , difficult to find where he made a mistake, like my app literarily did nothing apart from progress bar just spinning, I had to delete everything and start again , such a waste of my time
What everybody needs out there
Met this guy on youtube scouring for Jetpack tutorials and I can confidently say this is the kind of a teacher I wish I had